Configure Appointment Details
Appointments System
"Did you know you can now see a doctor without leaving the house?
See an NHS GP, whenever suits you. All you need is a laptop, smartphone or tablet.
Secure appointments with access to your complete medical history.
Get started at PushDoctor.co.uk/NHS, or download the Push Doctor app to book an appointment whenever suits you.
Appointments are available between 6:30pm - 8:00pm Monday to Friday and over the weekend between 8:00am - 8:00pm"
Link to site - https://www.pushdoctor.co.uk/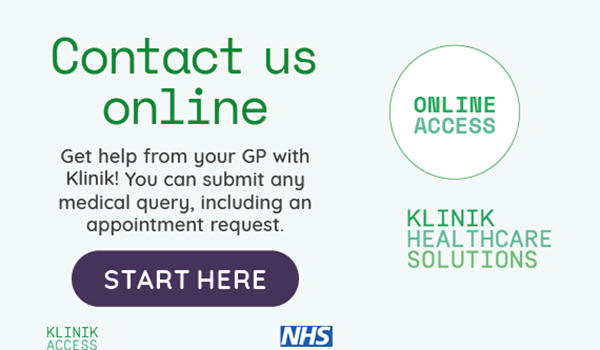 How does it work?
You can fill out an Online Consultation on any device (computer, tablet or phone) from 8am on Monday to 6pm on Friday. You don't need to log in and there are no passwords to remember.
Simply click on the image above to visit the website.
You'll then be asked to follow the instructions, which are essentially the same questions you'd be asked during a GP appointment.
It's important you provide enough information about your condition to make sure your request isn't delayed.
If you phone the surgery, a patient advisor will ask you the same questions and fill out the Online Consultation for you.
Once you've submitted the form, your information will be reviewed. We'll then be in touch by 6pm on the next working day to let you know the next step.
This might be:
An appointment with your GP or minor illness clinician (that day or later in the week)
A video consultation with a GP (that day)
Appropriate advice (for example, suggesting you visit a pharmacy or information on how to treat yourself)
A referral to another service (a physiotherapist, for example).
If your symptoms are more urgent, the Online Consultation system will highlight it and we'll deal with you as a priority. We may also direct you to the Minor Injuries Unit or Accident and Emergency if your case is more serious.
It's important to note that Online Consultation does not replace the '111' out-of-hours service (more details below).
Why are we making this change?
The UK is experiencing a shortage of GPs, and Plymouth is one of the worst-affected cities. This practice continues to lose the equivalent of 12 hours of GPs' time every month due to people failing to attend appointments. Patients are also making GP appointments when other members of the team can deal with their problem or query.
This change will allow us to make better use of GPs' precious time and make life easier for you.
It will also reduce the time it takes to get an appointment and cut down phone wait times. You'll also avoid unnecessary trips to the surgery. Plus, you can log on to Online Consultation from the comfort of your own home and take as much time as you want in describing your symptoms. It will also help people who might be embarrassed to discuss their symptoms face to face.
Devonport Health Centre is not alone in making this change. More than 1,000 GP practices across the UK already use online consultations, and more than a million patients have submitted online consultations. In fact, most GP practices in Devon already offer online consultations.
What if my condition is life-threatening?
999 is for life-threatening emergencies, such as loss of consciousness, heart attacks or stroke.
Call 111 or go online (at https://111.nhs.uk) if you need medical help or advice fast, but it's not life-threatening
Nurses/HCA's
Most of the appointments need to be booked via the reception to ensure that we give the correct amount of time for the blood tests and chronic disease reviews dependent on the condition you are booking for.
Home Visits
Whilst we encourage our patients to come to the surgery, where we have the proper equipment and facilities available, we do appreciate this is not always possible. In this respect, if you do need a home visit, you can help us by calling reception before 10:00. The time of the visit cannot be estimated so please be patient, if the receptionist feels the visit is urgent then she will transfer you to a GP immediately.
You may only request a home visit if you are housebound or are too ill to visit the practice. Your GP will only visit you at home if they think that your medical condition requires it and will also decide how urgently a visit is needed. Please bear this in mind and be prepared to provide suitable details to enable the doctor to schedule house calls
You can also be visited at home by a community nurse if you are referred by your GP. You should also be visited at home by a health visitor if you have recently had a baby or if you are newly registered with a GP and have a child under five years.
Cancel an Appointment
If you are unable to attend an appointment please ensure you telephone us at the earliest possible time (at least one hour before your appointment time) we can then offer the appointment to another patient. You can only cancel appointments by telephone or by using your online services account. We do not accept cancellations by any other method.
The practice has a high non attendance rate. It is frustrating when we are unable to offer appointments to some patients and we lose on average 10 hours of doctors appointments and 30 hours of nursing appointments each month due to non attendance.
The practice operates a policy where if a patient fails to attend three or more appointments they will not be able to book advance appointments with doctors or nurses. This will mean calling on the day you would like to be seen and if an appointment is still available it can be booked but they are on a first come first serviced basis and you may have to call back.
You can book and cancel appointments in the following ways
Telephone
All Nurse and HCA appointments can be booked by telephoning reception on 01752 561500. Please don't be offended when being asked why you would like an appointment. Our Administrators are asking so that they ensure you are seen by the most appropriate person and that you have the correct amount of time. They are bound by the same confidentiality as the clinical team.
For all acute problems and GP appointments the Pateint Advisors are unable to book directly. You will be asked to complete an e-consultation or the Patient Advsior will ask a list of questions.
Online
You can register for online services which will enable you to cancel appointments, request medication, check whether a prescription has been issued and update your contact details.
https://systmonline.tpp-uk.com
Please note you can only cancel appointments using your online services account or by telephoning the Practice.
Extended Hours
We now offer some early morning and late evening appointments which can be booked in advance.
Tuesday Morning

07:30 to 08:00

Health Care Assistant

Practice Nurse

Doctor (alternate weeks)

Tuesday Evening

(Alternate Weeks)

18:30 to 20:00

Practice Nurse

Doctor

Wednesday Morning

07:30 to 08:00

Health Care Assistant

Practice Nurse

Practice Pharmacist
Improving Access Appointments
GP appointments are now available for patients of this practice during the evenings and at the weekend.
To book an appointment call Devon Doctors on 01392 822354.
For more information, visit nhs.uk/GPaccess